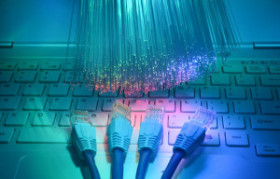 Ethernet & Fiber – Scaleable Solutions
Ethernet, along with the advent of fiber optic technology have provided superior data speed and crystal clear voice transmission. Many providers offer multiple packages for fiber optic communications to meet different requirements. We take the guesswork out of finding the right package for you by assessing your communication needs to determine the right scalable solution that can be increased at any time to meet ongoing demand and business expansion.
Cloud Virtual Servers – The New Business Network
Bandwidth requirements are increasing in direct proportion to the growing need for cloud computing access, Cloud resources through virtual servers have replaced the old infrastructure of networking. This allows for increased capacity and for users to upgrade without replacing the infrastructure itself. As backups, software, and critical data are stored "in the cloud", speed and bandwidth become the highest priority for accessing business information. We provide scale-able solutions to accommodate the growing need for how quickly cloud communications occur.
We have access to provider networks with extensive footprints to offer the most competitive packages that are specifically tailored to the needs of your business.